The other day I was reading
The Toby Show
and saw a felted chain baby toy from
Babus
, a shop on
ETSY
, and though "Wow! What a cool idea!" I was going to buy one for Ellie but thought it would be fun to make one myself. It was really simple to make and Ellie LOVES it. Here is a simple tutorial on how to make a knit chain baby toy.
****Please note that I in no way came up with this idea on my own. The idea was from the owner of
Babus
.
What you will need: a few balls of scrap yarn, 2 double point needles, a tapestry needle, and scissors
Next, knit an icord with the 1st color. I made mine 9" long but I think next time I will make them shorter. When you are done with the 1st ring sew the ends together with the tail yarn to make a ring.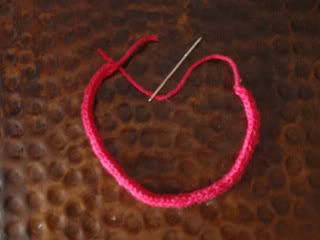 After you knit the 2nd icord loop it around the 1st ring before sewing the ends together.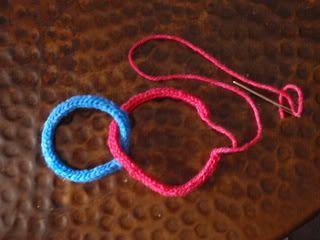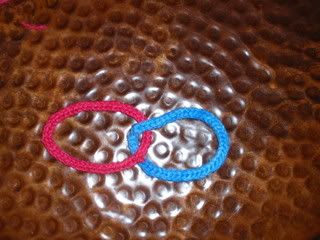 And there you have it! I did not even felt mine yet. After Ellie goos it up some them I will send it through the washer where it will felt. Here is the happy baby playing with her chain.