I have not posted a craft in 2 weeks I think. Not that crafts were not made, they just weren't documented. On Easter weekend Isabela and Alex dyed eggs while the rest of us were at a Passover Seder. Why was Isabela not with us? She has influenza and strep throat, that's why. Last weekend we went and picked up trash around the neighborhood. Not necessary a craft but when I asked the kids what they wanted to do that is what they requested so that is what we did. So that takes us to this weekend.
The craft for this week was making playdough. Earlier in the week the girls asked to play with playdough so I went downstairs to where we keep the playdough and brought it all up to the kitchen. What did I find when I opened the playdough containers? Dried up playdough, that's what. So I quickly went online to try and find a playdough recipe that was quick and easy and included stuff I already had around the house. In my search I found that most playdough recipes requires cream of tarter or alum. I have never even heard of cream of tarter or alum so those recipes was a no go. I finally came across this recipe:
Playdough:
1 cup cold water
1 cup salt
2 teaspoons vegetable oil
food coloring
3cups flour
2 tablespoons cornstarch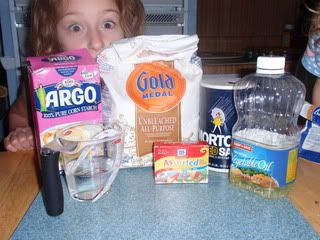 Mix up all the ingredients(minus food coloring)with a fork.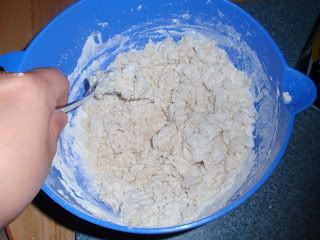 Let the kids knead the dough for a bit.
When you get a nice pliable dough you can add in the food coloring. This was fun for the girls. They pretended the food coloring was blood.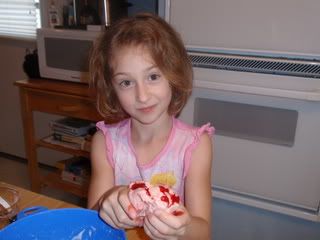 Once mixed let your imagination run wild!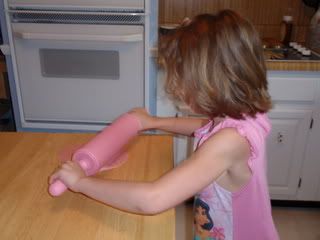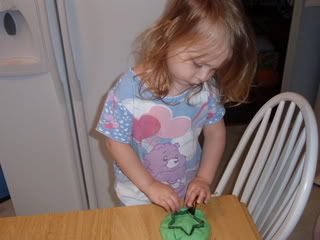 Warning! This stuff is extremely salty and does not taste good to most people. Isabela on the other hand is NOT like most people.
The whole process was really simple. The girls really enjoyed playing with the dough and this was a project that lasted them several hours which resulted in a nice break for me. And the best part was I could throw away the dough when they were done playing and when it dried the leftover mess was easily swept up.