A few weeks ago I took the girls to
Theis Farm
to get a few hanging plants for around our house. When we got there the girls saw a tractor taking people out to the fields to pick strawberries. They both began jumping up and down begging me to let them go out and pick strawberries. I love hand picked strawberries so naturally I said yes.
We rode the tractor out to the fields where we stuffed ourselves full of strawberries and filled our box with plenty more to take home with us. The girls really enjoyed themselves and it made me happy to see them having such a great time.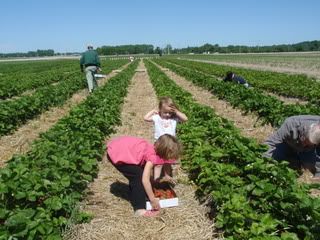 On the way home we were driving through
Creve Coeur Park
and the girls asked if we could stop and play on the beach. Since I was in such a kind and giving mood I said ok. The girls had a fabulous time wading around in the water and playing in the sand. They even found a dead fish and were poking around at it. Gross! Don't freak out though, I doused their hands in Germ X as soon as we got back to the car.
When we got home we ate dinner outside and played for awhile. At the end of the day everyone was happy and went to bed exhausted. I love days when we can be care free and go-with-the-flow. It is a shame that they are so far and few between.