About a month ago Ryan and I decided we wanted to take the girls on a beach vacation. We toyed around with the idea of driving down to Florida, camping out on the beach staring up at the stars while listening to the waves crash and having a great care free time. Reality soon hit after a friend informed us about the terrible mosquitoes, fire ants, no see ems and the unbearable high temperatures and humidity that come along with summertime in Florida. We realized that our dream trip was just that, a dream. Not to mention the 20+ hour drive with 3 small children that had people questioning our sanity. Ultimately we decided to go to Gulf Shores, AL. Its like going to Florida but half the drive. We booked a condo and were off 3 days later.
This trip has taught me several things about traveling now that we have a family of 5.
One, deciding to leave home at midnight was a great idea. Thankfully, the girls slept and did not wake up until we stopped to get gas at 7:30 am. We got up, went to use the little girls room, stretched our legs and ate some breakfast. When we got back on the road the girls watched a movie, took a nap and at noon we reached our destination. We did the same thing on the way back and it worked out equally as great except for the 45 minutes we had to stop because of a teething 6 month old but hey, a trip delayed only 45 minutes is not bad in my opinion.
Two, renting a condo with a kitchen is the best thing for a vegetarian family of 5. When going to a beach community there is only one thing to eat. Seafood. Luckily for us we utilized the local farmers market and were able to eat very healthy. If we were staying in a hotel we would have been forced to survive on grilled cheese, potatoes and corn the entire week. That would make for 5 very grouchy, sluggish and constipated people. One night we did make a special trip to TCBY and had some frozen yogurt.
Three, if you stay on the beach and avoid the tourist traps you can save a TON of cash. I will never understand why people go on a beach vacation and spend all their time dumping money into Water and Amusement parks when they could just go to a beach. Our girls played for hours splashing in the waves, build sand castles, catch hermit crabs... Ryan and I sat there and relaxed. It as perfect. We did have some fun and went into some souvenir shops. We took some silly pictures and to me those are the best souvenir you can cherish forever.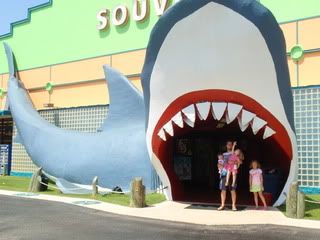 Four, we threw away shameful amount trash. For a family of 5 who recycles and composts we only generate one bag of garbage a week. I am ashamed to admit that while on vacation we took one full bag of trash to the dumpster every day. In fact I was so ashamed that I swore to Ryan that next time we go on vacation we are leaving enough room in the car to bring back everything recyclable. I am proud to say that despite the lack of "green" planning we did buy gallon jugs of water instead of bottled water.
Overall we had a great time and I was sad to leave and come back to the hustle and bustle of everyday life but all good things have to come to an end eventually. All I can do now is remember the great time we all had and look forward to our next trip.