As a loyal user of cloth diapers I thought it would be appropriate to do a review. Over the past few years I have tried every diaper under the sun and I have found a few that I am loyal to. Here are my favs.
Prefolds- I have just recently started using organic bamboo prefolds. They are soft, stretchy, and can contain a massive blowout. They are perfect for keeping Ellie's bum cool and rash free during these hot summer days. I buy all my bamboo prefolds on
Hyena Cart
. Here are a few of my favorite stores:

Picasso Tums
Zaichiki Baby
Swell baby
Here is Ellie in a Picasso Tums embellished bamboo terry prefold. Doesn't it look comfy?
Fitteds- I am a HUGE fan of
Bagshot Row Bamboo
(can you tell I have a thing for bamboo?). Bagshot Row Bamboos are a snappiable/pinable one sized fitted diaper that is truly amazing and is the only type of fitted diaper I own. The leg elastic is encased and kind of padded so it never leaves any marks on Ellie's thighs. They are extremely stretchy and the absorbency is out of this world. I don't think I have ever put a cover over one of these.
Here is Ellie a few months ago in her 1st BSRB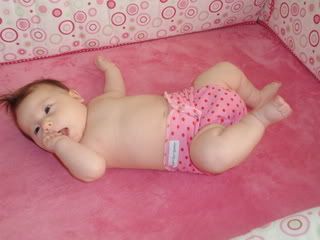 Pocket diapers/ All in ones (AIO)- Hands down my favorite pocket diaper is the
BumGenius one-sized pocket diaper
. They are my one and only go-to workhorse diaper. I used them on Olivia and I now use them on Eliana. They are prefect. The Velcro is nice and strong and the leg casing is tight enough to contain messes but not so tight that it leaves red marks. BumGenius also makes a one sized bamboo AIO that I love.
Here is Ellie today in one of her 20 BumGenius diapers
The creator of BumGenius (Jen) owns and operates a retail store called
Cotton Babies
right here in St. Louis!! Cotton Babies is a top ranked online cloth diaper retailer and a store that I frequent often. They sell more than just cloth diapers. They have natural toys, nursing wear and accessories, children and infant clothing, feeding supplies, car seats, strollers, baby carriers and just about anything else a mom could want for their child. They host classes like cloth diapering 101 and a birthing alternatives class that I attended while pregnant with Eliana. Cotton Babies also holds a cloth diaper garage sale every year that is great for scoring all kinds of goodies. The staff is very friendly and helpful. I love Cotton Babies!!!!
To end my cloth diaper review I have to give a rave for
Imse Vimse flushable liners
. Ellie gets terrible diaper rashes so I have to use a very heavy diaper cream on her with every diaper change. Without these liners I would not be able to use cloth diapers. I also love the convenience of peeling off a liner full of poo and throwing it in the toilet opposed to sloshing the diaper around in the toilet and getting your hands full of nasty toilet gunk. (How was that for a sentence?)