I am currently in the process of redecorating my hall bathroom. Originally I was going to decorate it using all Etsy finds but my plans foiled when Ryan said I could not spend any money on accessories if I wanted a new sink and a finished basement so I had to improvise. Since I am all about crafts and upcycling I decided to use things that I already have around the house to make new stuff for the bathroom. I am not going to do before and after pics of my bathroom until it is all done. In the meantime I will share tutorials of my projects :)
Awhile ago I busted out Ryan's grandmother's sewing machine and somehow managed to sew a straight line. I got so excited that I went online and bought a bunch of fabric from
The Fabric Farm
only to get it and never figure out how to work that damn machine again. Over the weekend I busted the fabric out of hiding and decided to cover my outlet cover. Here's the tutorial.
Materials:
Fabric
outlet covers
spray adhesive
Mod Podge
scissors
Step 1:
Lay your fabric onto the cover to figure out your design placement. Mine was simple. The fabric I used was a big flower print so all I had to do was choose if I wanted the pink or red flower. Easy. It would be better if you use fabric that has a smaller print. Unfortunately, I did not have another print fabric that would have matched my wall color.
Step 2:
Flip the covers over and draw onto the fabric where the holes need to be cut.
Step 3:
Cut.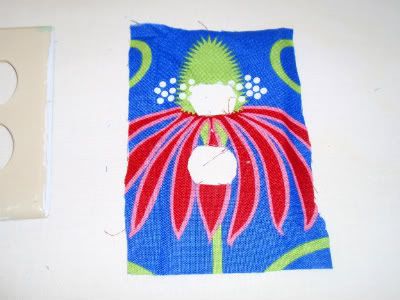 Step 4:
Spray the cover with adhesive spray and carefully press your fabric into place.
Step 5:
Flip the cover over and spray some more adhesive to glue down the corners and where the fabric peeps around the holes. You will most likely have to trim the fabric a bit to make it stick better.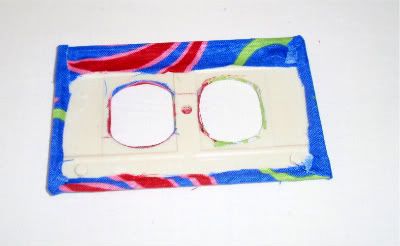 Step 6:
Using a foam brush, smooth a layer of Mod Podge onto the fabric rubbing it in really good. When it drys it will be rough. Don't freak out! After applying a few more coats it will feel smooth again.
Note:

wait until Mod Podge is completely dry before adding another coat or it will goop up.
Step 7:
Punch a hole where the screws go with scissors or a 1/8" hole punch and hang.
Doesn't the top outlet look like a face on the flower, LOL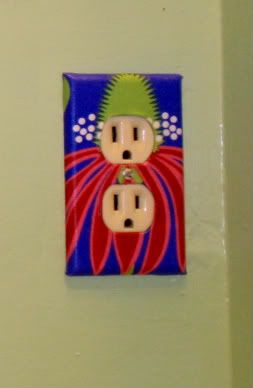 Here is the matching switch plate.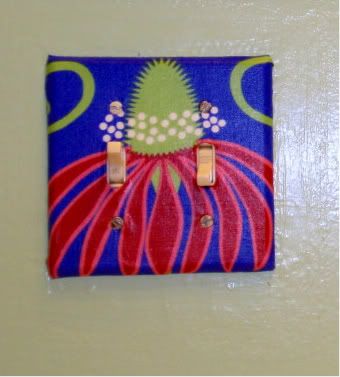 Beautiful!
If anyone decided to make some of these please email me pics :)
Edited

to say I did NOT paint my walls puke green. I just darkened the background to make the colors of the covers stand out more
:)