A good friend of mine lives in a small college town in Missouri (Mizzou anyone?). She was telling me how everyday she walks to this natural ice cream shop and gets a scoop of lavender honey ice cream. Oddly this sounded wicked good to me. Since I don't have a fancy ice cream shop like that in my neck of the woods I decided to make some myself. This recipe only has 6 ingredients and I LOVE that it uses honey instead of refined sugar.
Ingredients:
Heavy cream
half and half
eggs
honey
kosher salt
dried edible lavender
You start the recipe by heating the cream, half and half, honey, and lavender flowers in a sauce pan over medium heat until it comes to a light boil stirring occasionally. Remove from heat, cover and simmer for a half an hour.
While your mixture is steeping whisk the egg and salt in another bowl.
Next, pour mixture through a mesh sieve to strain out all the lavender flowers.
Wipe out the sauce pan and pour the cream back in. Take out one cup of the mixture and slowly whisk it into the egg. Make sure to do this s-l-o-w-l-y, you don't want scrambled eggs in your ice cream. Pour it all back into the sauce pan and heat on medium heat, stirring constantly, until a thermometer reads between 170-175 degree Fahrenheit. DO NOT LET BOIL! Now you have custard.
Pour custard through sieve into a clean bowl. Do not skip this step! You will have chunks.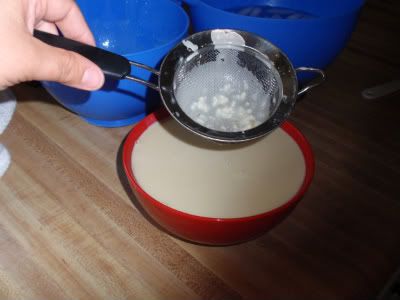 Allow the custard to cool completely by setting the bowl in a larger bowl filled with ice and water. This takes about an hour just remember to stir it around every once in awhile.
Once cooled, cover and put in the fridge to chill for 3 hours.
Now in my house I cant cook anything new without some kind of kiddo commotion. This time Olivia did something to Ellie's arm and she could not move it. I ended up taking her to the ER(after I went and picked Isabela up from camp then drove her and Olivia to my In-Law's house). They diagnosed her with nursemaid's elbow. To all of us that do not have a medical degree nursemaid's elbow means her elbow popped out of the socket and her ligaments got trapped in there causing pain and immobilizing her arm. The doctor pulled and twisted her arm until we hear a big POP! and VOILA! back to new again. Ellie was a champ through it all and did not even cry(hardly).
After the exciting ER visit I picking up the kids from the In-Laws and came home to my cream 3 hours later. What a way to pass the time!
Pour the custard into your ice cream maker. I have a 2 quart and it was filled. Let the mixer run until the custard is icy.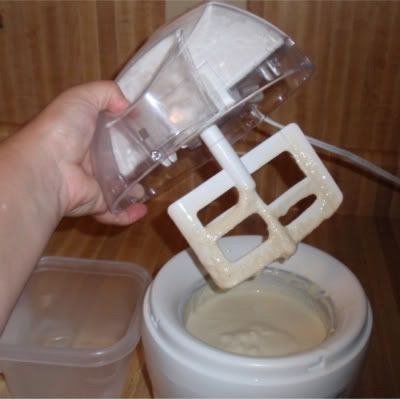 Transfer into an airtight container and freeze until set.
While I was waiting I whipped up a batch of lavender tea cookies to go with my ice cream.
When your ice cream is done make a bowl and get yourself a cookie. don't forget to make your kids a bowl of cookies and cream so they will leave your ice cream alone or better yet eat your bowl when the kids are in bed. Enjoy!

Lavender Honey Ice Cream
2 cups heavy cream
1 cup half-and-half
2/3 cup mild honey
2 tablespoons dried edible lavender flowers*
2 large eggs
1/8 teaspoon salt
Preparation
Bring cream, half-and-half, honey, and lavender just to a boil in a 2-quart heavy saucepan over moderate heat, stirring occasionally, then remove pan from heat. Let steep, covered, 30 minutes.
Pour cream mixture through a fine-mesh sieve into a bowl and discard lavender. Return mixture to cleaned saucepan and heat over moderate heat until hot.
Whisk together eggs and salt in a large bowl, then add 1 cup hot cream mixture in a slow stream, whisking. Pour into remaining hot cream mixture in saucepan and cook over moderately low heat, stirring constantly with a wooden spoon, until thick enough to coat back of spoon and registers 170 to 175°F on thermometer, about 5 minutes (do not let boil).
Pour custard through sieve into cleaned bowl and cool completely, stirring occasionally. Chill, covered, until cold, at least 3 hours.
Freeze custard in ice cream maker. Transfer ice cream to an airtight container and put in freezer to harden.
Lavender Tea Cookies
1 cup unsalted butter
2/3 cup minus 1 T. superfine sugar
1 egg, beaten
1 1/4 cups minus 1 T. self rising flour
1 T. fresh lavender flowers
Line a cookie sheet with parchment paper. Preheat oven to 350. Cream butter and sugar, add egg and beat well. Stir in flour and flowers. Drop teaspoonfuls on parchment, spacing widely to allow for spread. Bake 15 to 20 minutes until *pale* golden and edges tinge brown. They will be soft until cooled on waxed paper. Store in airtight tin.
recipe featured on The Crafty Crow
.