I was talking with my mom last week and she asked me when I was going to host coffee at my house. We got to talking about the blueberry coffee cake that I had made when we had coffee at my cousins house and she suggested that I make it again. I agreed and said that instead of using blueberries I would use pineapple and coconut. We both thought it was a great idea so that is how my pineapple coconut coffee cake was created. This recipe is really simple.
Ingredients: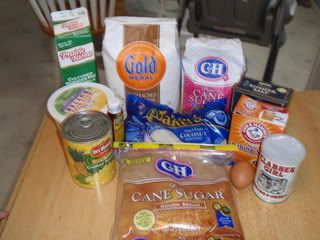 First, sift your dry ingredients together. I don't have a sifter so I let Olivia stir the ingredients around with a fork for a bit.
Next, cream together the butter and sugar, then add in your vanilla and an egg.
After that simultaneously add in your dry ingredients and buttermilk and mix until incorporated. Don't forget to let your helper have a taste.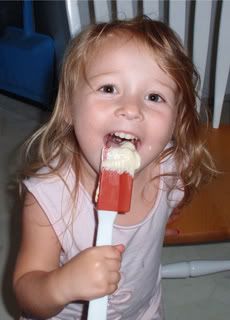 When everything is mixed together fold in 2 cups of crushed pineapple, drained and pressed, and 1 cup coconut. You can adjust these ingredients if you prefer less pineapple and coconut but this ended up being the perfect amount for my tastes.
Put the batter in a baking dish and sprinkle with brown sugar. I think next time I will use chopped macadamia nuts instead.
Bake for 30 minutes in a 350 degree oven. Sprinkle with coconut and bake an additional 5 minutes to let it toast up and your done! Beautiful!!!
Plate it up and eat. YUMMY!!!!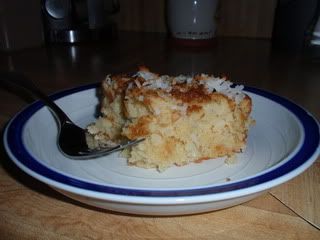 This version was thicker and richer than the blueberry version but every bit as delicious.
Pineapple Coconut coffee cake.
1/4 C butter
2/3 C white sugar
1 egg
1/2 t vanilla extract
1 C buttermilk
2 C unbleached flour
1 1/2 t baking powder
1/2 t baking soda
1/2 t salt
2 cups crushed pineapple, drained and pressed
1 cup shredded coconut
topping:
some sprinkles of brown sugar and coconut
-or-
crushed up macadamia nuts and coconut
In a bowl sift together dry ingredients.
In another bowl cream butter and sugar. Add in egg and vanilla and mix until blended. Beat in the dry ingredients alternately with the buttermilk, mixing just until incorporated. Fold in pineapple and coconut. Pour mixture into a prepared pan. Sprinkle with topping and bake in a preheated 350 degree oven for 35 minutes or until a toothpick inserted into the center come out clean. Allow to cool and serve.