Public Service Announcement:
When I started this blog my intentions were to write posts based on the green aspects of my life. Recycling, composting, gardening, organic living.... you know stuff
Mother Earth
would approve of.
This morning while driving(I do my best thinking while driving. Don't you?)I was thinking about my posts and how they are totally not what I wanted for my blog. When I got home I came to the computer and took a look at all my posts. Gardening, the birds nest, cooking, making "stuff", cloth diapers and realized something. Even though my posts are not what I envisioned for my blog I think I am doing a good job sticking to my intentions. I think Mother Earth would be proud.
Now back to our regularly scheduled program.......
Yesterday when I picked Isabela up from camp she ran to the car with a huge smile on her face and she was holding what looked to me like a diet coke box. She got into the van and started telling me about her "project".
Our Synagogue(Jewish) has been working very hard on becoming a green establishment. They started sending out newsletters and reminders via email, they recycle, conserve energy in every way they can and they started teaching their members how to live a greener life. A while back I was asked to write an article for the school newsletter on simple things we can all do to live a green life. I was honored that they thought of me to write the article and proud to share my tips on what my family does to live a better life. I wish I had a copy of the article to put in this post but sadly I cannot find it.
Anyway, yesterday at camp Isabela's amanut(art) project was to make something with recycled materials. This is what Isabela made.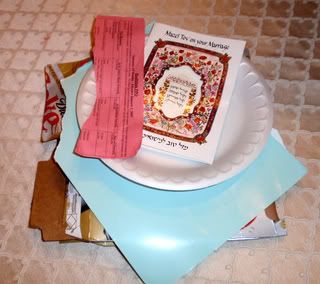 Diet Coke, marriage, and health insurance. Thinking like an adult already.
I really have no idea what "it" is but I'm really proud of my daughter. She knows the importance of recycling and keeping our plant clean and she was very proud that she had created a masterpiece using recyclable materials.