This happens to me all the time:

I go to the grocery store and buy all this beautiful, mouth watering produce only to get it home and never get around to cooking it before it goes bad .
Well my friends,
I have found an easy solution for that.
I call it "leftover frittata.
I take whatever I have in the fridge, mix it with eggs and bake it.
Very simple.
This is what I had this week:
some zucchini, a yellow squash, a half a red onion, some green onion, leftover fontina cheese, some mozzarella that I bought to go with the yummy(not!) basil from my garden ......
Chop all the veggies up. I like the slice mine. Just for show, chop yours however you like.
See how I opened the squash and it looks bad?
Sucks doesn't it?
Into the composter it goes.
Same thing happened with my moz. cheese. It smelled terrible!
Moving on,
Sweat the veggies out in a hot skillet with a tad of veg oil.
Next, add the eggs and cook on med low heat until it is set.
While my eggs were setting I noticed I had a ripe tomato on my window sill.
Doesn't this tomato look cool?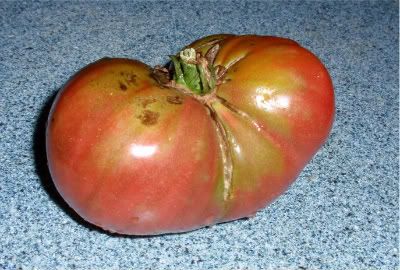 I almost did not pick it because it is not red like tomatoes should be but my friend Jimbo, who gave me the plant, told me they are supposed to be purplish.
Way cool.
Thanks Jimbo!!!
After adding the sliced tomato I decided to add some left over facon.
What is facon?
It is fake bacon.
Morning Star breakfast strips to be exact.
O.K.
Eggs are set.
Put in a 400 degree oven until fully cooked.
Your eggs should spring back when it is done.
Looks yummy doesnt it?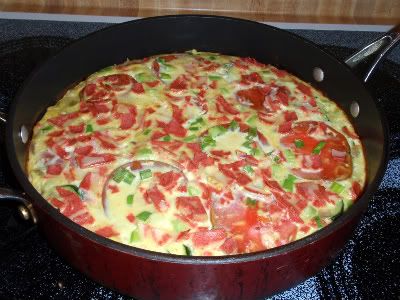 Plate up and enjoy!!!