A while ago I saw a button on almost every single craft blog I read for the
Old Red Barn Co Quilt Along
.
Back them my sewing machine and I just started our courtship. We were in the holding hands phase but there was no other physical contact beyond that. Every week I followed the quilt along as if I were actually sewing a quilt and every night after my kids were tucked in bed I sat at that machine learning everything I could about it.
Sadly our relationship soon ended. My old hand me down Singer
died
. I was sad but quickly replaced her with a newer, faster, and quieter Singer.
After I got accustomed to sewing on my new Singer I decided that I would give the
Quilt Along
a try. My mom LOVES quilts and I thought it would be the prefect Christmas gift for her. I bought fabric, re-read the quilt along posts, and made a quilt.
It was a LONG painful process but totally worth it. I do not have a quilting machine nor did I have to funds to ship my quilt off to have it professionally quilted so I "quilted" it by putting a decorative stitch down every.single.strip on the quilt. When it was done I stepped back and took a long look at my creation. It was beautiful! I was so proud of myself!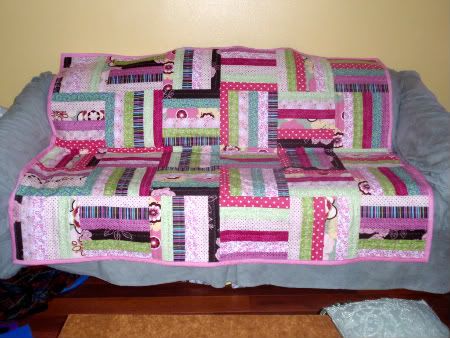 On Christmas morning I gave the quilt to my mom and she was SO happy! She loved it!!! She said she snuggles and sleeps with it all the time.
And because I like to keep it real the above photo was cropped and made pretty. Here is the unedited photo.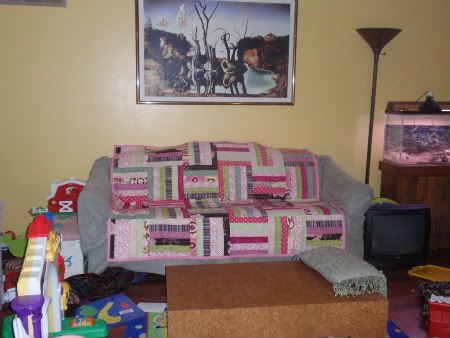 Our basement is being remodeled so everything is upstairs for the time being. Plus, I have 3 kids. Messes are inevitable.