My loving, caring, and do anything for me husband bought me
this
for my 30th birthday.
sorry for the stock photo I don't have an official pic. of mine yet.
I LOVE it but I'm scared to death of it. The manual is a novel. I'm just glad I got 6 free classes on how to use the damn thing or I might have had a panic attack just by plugging her in. So the beauty is just sitting on my dining room table waiting for me to get up the courage to actually do something besides look at her and dream about all the cool stuff I could be sewing if I wasn't so intimidated by all the buttons and stitch options.
In waiting, I have been teaching my 7 year old, Isabela, how to sew.
She loves it and is so eager for her lessons. I taught her the machine basics first. She knew how to thread the machine and needle,wind a bobbin, clean the gears, adjust tension and stitch length before I even let her start sewing. For the past few days she has been playing around with the stitching and making patterns on scrap fabric.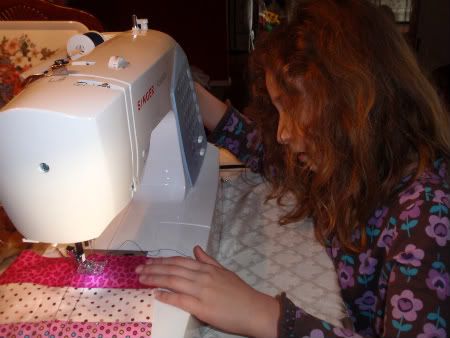 Her next lesson is going to be cutting fabric and following a pattern. That's going to be a hard lesson for me to teach since I make so many cutting errors and I have a hard time following a pattern myself but I let her know that :)
I cant wait until we can sit together and sew things!!!!