This week I let the girls paint the bird houses they got for Christmas. They have been asking me every weekend since then if they could paint them and I have said no every time. You could only imagine the looks of disbelief when I actually said yes. This is a pretty straight forward craft so there are not that many steps. Here's the craft:
What you will need:
A bird house or bird feeder
craft paints
assorted paint brushes
a waterproof finishing spray
1st, paint the houses and let them dry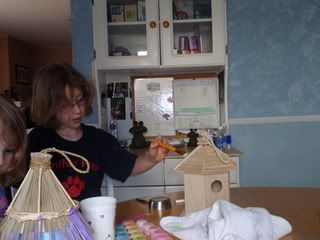 Once they are dry spray them with a waterproof finishing spray and let dry
Hang(which we have not done yet because it is pouring down rain right now)
***Note how I never line my table with newspaper when the girls are painting? I don't believe in it. 1st of all I hate newspaper. I think it is a waste that fills up our landfills WAY to fast and 2nd, what is a craft without a mess? It is not fun that's what it is. A soapy sponge always takes up the paint.