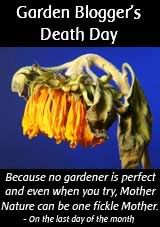 Fall is coming and with nighttime temps around her in the 50's my garden is starting to die.

My Cantaloupe plants that gave me those nice(small)melons is dying.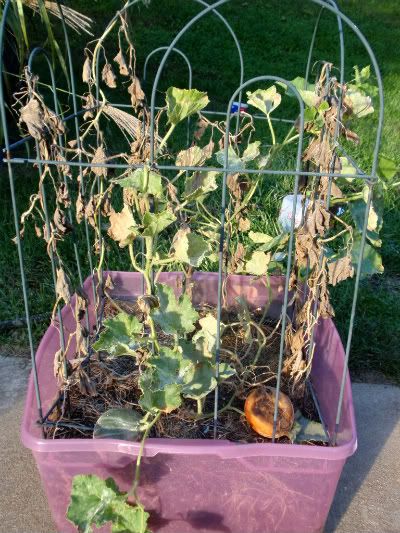 Lets get a close up of that rotting fruit down there,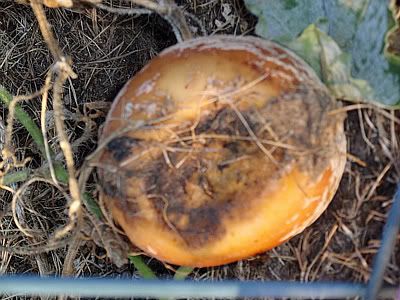 nice.

My pumpkin plants spent the entire summer covered in mildew, produced one pumpkin each, then withered and died.

My green bean plants, which have been producing more green beans than I care to eat, have not produced in a few days so I suspect they are going to start dying as well.

One of my eggplant plants is dying too. It started to make an eggplant but...

I guess it changed its mind.

I don't really care for eggplant that much anyway.

Even though death is quickly approaching there is still some life hanging around in my garden.

Like my tomato plants.

They are digging this cool weather.

I always pull them off green so that they don't split or get eaten by something else.

They just sit here on my window sill,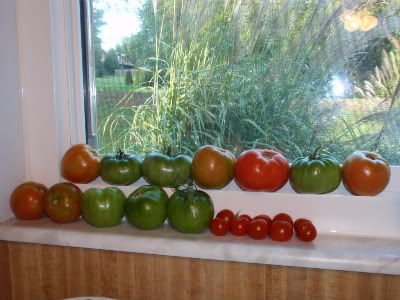 ripening in the sun, until they turn red.

Than my husband gives them away before I even get to taste one.

My sweet potatoes are growing

This one is small.

I think I will wait a few more weeks before I dig the rest up.

This praying mantis has been hanging around for awhile,

and I always see bumble bees,

and there are also gigantic grasshoppers in there that the girls like to catch but I don't have any pics of them.

I will conclude this post with my days harvest

(and don't laugh at the little people box. It's all I had laying around)

Happy Gardening!!!