Today's the day! Today's the day!!!
Its the
Roadkill Rescue party
over at
Infarrantly Creativity
!!
I'm so excited to see what everyone has created out of their roadkill.
This was my roadkill.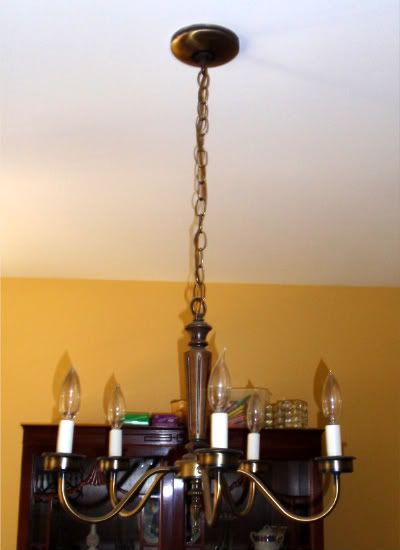 My dining room chandelier.
Ugly right?
Right.
When we moved into our house a little over a year ago my Mother-In-Law told me she would take me to go get a new dining room chandelier. Yeah, I'm still waiting on that.
Lucky for me Lowe's had sent me a project book and in that book was this page.
I looked at it and said to myself "I have that chandelier in my dining room!!!" I tore it out and put it in my project folder.
A year later, I figure I'm never going to get that new chandelier so I took that page out of the folder and decided to revamp my old chandelier.
Here's what I did.
I sanded down all surfaces, and wiped them off.
When it was dry I sprayed the metal parts the same cream color as the
desk
I revamped and painted the wood part with some paint I had left over from my front entry way. I hung it back up and it looked like this:
Better, but it still did not look that great to me.
I started freaking out a little bit because I thought I ruined it and was going to have to hint to my Mother-In-Law about getting me that new one she promised.
It still needed something so I went to Lowe's and bought 5 drum shaped chandelier shades. I brought them home and put them on and they looked SO bad!
Saturday we had to go get some tile at Lowe's so I took them back and was just going to leave the chandelier the was it was. I returned them and went about my day.
It was a "by chance kind of thing" that we had to go over to Home Depot and there, in the clearance section, was 5 regular shaped chandelier shades for $1.91 each!!! I snagged them up and brought them home. I put them on and they looked perfect except they were not all the same color so I took some of the red paint that I used on the chandelier, diluted it with some water and pained the shades.
It looks so much better doesn't it?
I love how the light shines through the shades.
So
then
I was not happy with the way the chained looked(I'm hard to please sometimes) so I went into my closet, found an old cream colored shirt, cut some strips, sewed them together and made a chain cover. Now it looks fabulous!!
Im very happy with the way this turned out and Im really glad I took the time to do this revamp.