Sorry about the lack of craft post yesterday, I lost my camera. It has since been located and I will post my Thursday craft tomorrow.
Today is the
Heirloom Party
on
Emma Calls Me Mama
. I am very excited to participate today although if you would have asked me a year ago I would have
barfed
declined.
Here's the story:

We bought our house last summer. The owners were moving to Florida and, to save them the hastle and expense of shipping and storing all thier stuff, decided to add all their furniture into the sale price of our house.
It was all pretty much brand new. They left all the receipts, warranties, and manuals in named files in the office for us.
Along with all the new stuff there was something old in the dining room that they wanted to sell us. It was a
GIANT
hutch made by the owners great-great grandfather sometime in the late 1800's early 1900's.
They wanted $900 for it and I said NO WAY! It was ugly, it was
HUGE,
it smelled old, the glass was melting, it was rusting....it was not my style
We respectfully declined their offer.
On closing day they asked if they could leave it. They were unable to sell it in such a short period of time and it was too expensive for them to ship it down to Florida. So in our dining room it stayed.
It creeped me out BIG time.
I took pictures of it and tried to sell it to antique dealers. I got some offers but never excepted any of them.
I am now glad that I didn't.
As time went by that
huge
, ugly, smelly, rusting, melting hutch has grown on me.
I started using it to store all the kids messy activities in. Crayons, markers, paints, play dough, paper...... than when I got into sewing and crafting I started filling it up with all that stuff.
It has actually worked out great.
As you can see when the doors are shut it looks like a regular hutch with my wine glasses and serving dishes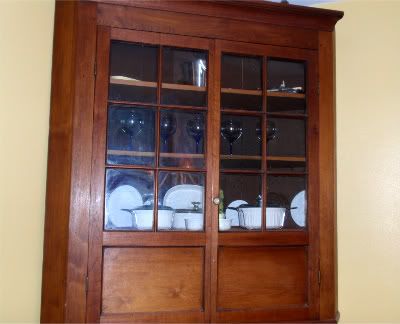 but when you open it up you have all of mine and the girls crafting stuff.
Besides the fact that it hides all of my crafting supplies away it has great detail.
It amazes me that someone was able to carve these legs without the use of a rotery saw,
and hand carve the molding at the top(the corner pieces are sitting on top, they fell of at some point),
and hand make this glass that has warped and melted over the past 100 + years,
and put these knobs on and make a key hole,
I have come to realize that this hutch was not whipped up in one day by a machine in a factory or put together in a week but a skilled craftsman using modern tools, it was hand built, over a period of time, by someone who labored and put all of their pride in making it.
So, out of respect for the man who made this hutch, I have decided to embrace and love this piece of furniture for what it is,
A
FABULOUSLY BEAUTIFUL
piece of work.