Last night at sundown the the 1st night of Passover so I was super busy making my families favorite Passover dishes, Matzo ball soup, potato latkes, and apple kugel. Odd combo for one dinner but that's how we like it.
Ingredients:
8 matzos, 4 apples, 1 C. golden raisins, 6 eggs, 1 C. sugar, 1/2 C. oil, 1 tsp. salt, and 2 tsp cinnamon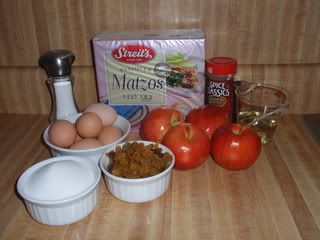 First, break up the matzo in a bowl and cover with water. Quarter, core and dice apples and put them in a bowl of cold water. Put both bowls in the refrigerator for 1 hour.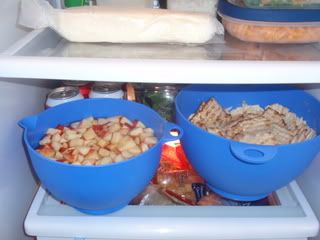 Next, mix the eggs, and sugar and beat until smooth. Add oil, salt, cinnamon, raisins and apples. Stir until apples are coated.
Pour in the soaked matzo.
Lastly, pour mixture into a 9x13 baking dish and top with butter pats. I used my homemade butter. YUM!
Bake in a 350* oven for 45 mins. and voila! You have apple kugel!
We eat this over the course of several days. It is great hot as a side dish to your passover meal or cold for breakfast.