The plan for this weekend was to dig up the eye sore that we called a front garden and make it beautiful. Ryan and I knew that we did not want to do this year after year so we knew perennials were the plants for us. So yesterday we make the trip to Lowe's. We walk into the garden area and were instantly overwhelmed by the variety of flowers and shrubs available. Ryan decided to talk to an expert who gave us an idea of what to do with the space we needed to fill. Luckily Ryan took measurements before we left so he was able to draw a diagram of the front garden and we mapped out where each plant we chose would go and how much room each would take up full grown. 2 hours later we felt confident that we picked the perfect flowers and shrubs and we make our journey back home to unloaded the plants, soil and mulch.
Today we started the garden. We(and by we I mean Ryan)raked out all the old mulch and rocky dirt to make our work surface smooth. Next, Ryan laid plastic around the foundation of the house.
Then we measured out our work space and placed our plants where we wanted them.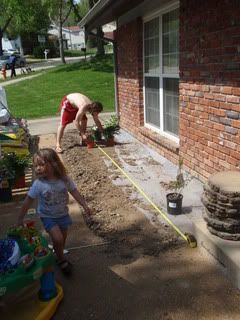 Then the digging began!
After the last plant was planted Ryan called me out to make sure everything was where I wanted it before he began covering the area with mulch. I gave him the O.K. and he was off. I swear once this man starts something he does not stop! Even though I was not a great planting partner I did bring him out a shirt when his back started getting burnt and I brought him endless amounts of water.
And the finished product. Didn't he do a great job?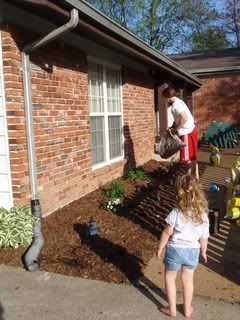 Right now it does not look like much but I am confident that it is going to look fabulous once everything is full grown. YAY now we have curb appeal!