I was chatting with a few online friends this weekend and our resident Canadian brought up the idea of making her own butter. After watching a couple tutorials on making butter it seemed so simple that some of us decided to give it a try. Here is my tutorial:
Ingredients:
Quality heavy whipping cream-I used cream from a local dairy, a pinch of salt-I used Kosher salt but any salt will do, and a container- you can use glass or plastic, just make sure it it big enough for the liquid to expend into cream.
9:45 a.m. Pour cream into container, add salt and the shaking begins!(see the action shot of Olivia? She lasted 30 seconds,lol)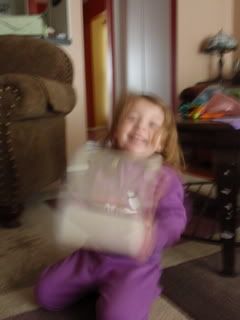 10:15 a.m. soft peaks.
10:30 a.m. whipped- notice the color change?
10:40 a.m. separated. This happened VERY quickly, like, at 10:33 it just went from whipped to water and chunk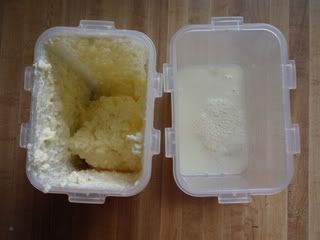 10:45 a.m. whipped butter!!!!
update: apparently I missed the rinsing step at the end so next time I make some buddah I will add in the last step :)