Over the weekend I was surfing some blogs and I happened upon
this
post. Scroll to the end of the post and you will see an amazingly beautiful baby holding an awesome crinkle owl. So I clicked on the
link
and thought "Wow! Ellie would love that!" So I got out my felt stash, some ribbon, colored thread, a noodle package from my recycle bin, some fluff and a pair of scissors and went to town. Although mine is not as fabulous as Julies, it was fun and easy to make and Ellie loves it!
Loves to crinkle it.
Loves to chew the tags.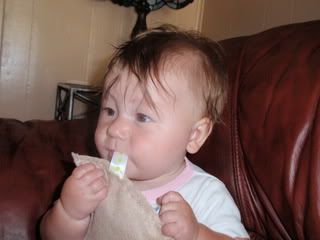 Loves to wear it on her head. :)